TV Unit Decor Ideas to Elevate Your Living Space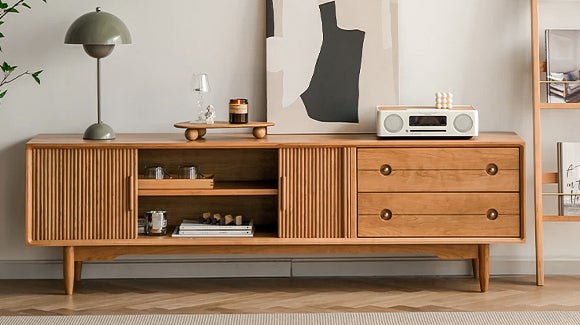 Nothing brings people together like plonking down in front of the TV. Whether you're a solo dweller who watches The Great British Bake-Off to unwind, part of a family who fights over the remote or even one half of a couple who has to sync up your shows with your partner — most of us spend a bit of time in front of the screen. That being said, if your TV unit takes pride of place in your living room, it deserves to shine like the star it is.

If you're looking for TV unit decor ideas that will take your living space to the next level, you've come to the right place.

Mount it
The first step on your TV decor journey is a suggestion that will maximise your space — wall mounting your TV. From a design perspective, this frees up your TV unit to hold more items without looking cluttered or competing for space with a big, black square. Popping your TV on the wall also means no unsightly cords peeking out. Mounting your TV also makes the room look larger overall, creating the illusion of more space. It's a win-win!

Your own private gallery
Why not turn your TV wall into a work of art? Curate a collection of framed pieces to place around your wall-mounted TV and watch as it melts into the background. The trick to pulling this off is to stick with the same (or similar) coloured frames for cohesion — sticking with black will help you telly blend in even more. With the right spacing and placement, as well as a monochromatic approach to the art and frames, your wall will look chic and modern.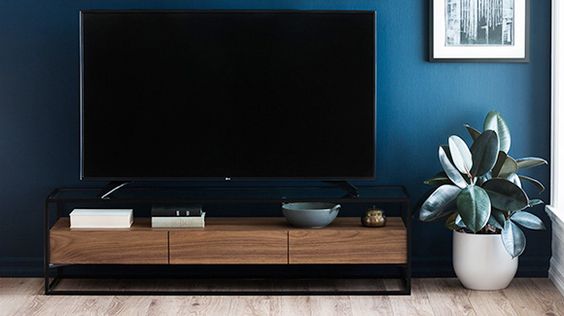 Big on balance
Embracing symmetry in your TV unit decor can create a truly striking visual effect. Choose a handful of feature items for your TV unit and then focus your attention to the sides of the display. Things like immaculately placed wall art or even two tall, slim bookshelves flanking your TV unit can add a sense of formality, structure and sophistication to your living area. If it seems too rigid, you can tone it down by adding some softness to the space — think stacks of books or whimsical floral arrangements on the TV unit itself.

Left of centre
In the complete opposite vein to symmetry, trying an off-centre look is also an option for your TV unit decor. Placing the unit to the left or right of the TV gives you ample space to get playful with your decor. Use the extra room to highlight sculptural items that create a bold presence — varying sized book piles, chunky candlesticks, statement vases and accent table lamps are all fabulous options.

Break from tradition
Who says you have to be restricted to TV units for your living room space? Using a sideboard or buffet as a stylish substitute is a fantastic out-of-the-box option, especially if you can't find any TV units that tickle your fancy. Sideboards and buffets offer a range of different dimensions, as well as additional storage and display options. If you select a lower-lying sideboard or buffet, it can give you the space and freedom to create a display with varying heights.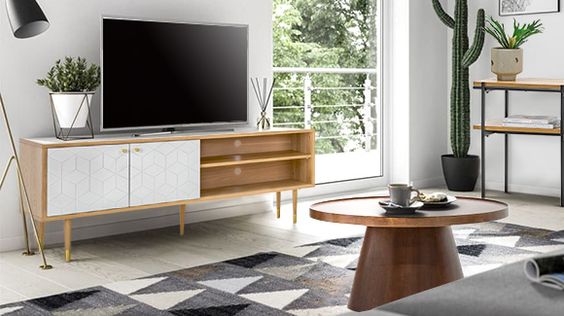 A splash of green
Offset the tech-heavy vibes of your TV with a splash of nature — we're talking plants! Turning your TV unit into a lush oasis will add a sense of calm and colour to your living space. You can experiment with plants of different heights and textures to create points of visual interest without distracting from the TV. Snake plants, spider plants, rubber plants, peace lilies and ferns all do well indoors, not to mention they'll help purify the air in your living space.

Make it moody
Going for a soft, moody vibe for your TV unit decor can help to offset the harsh lines and brightness of the actual television. Items with rounded edges like bowls, vases and candles make perfect decorations for TV units — play with muted colour schemes and natural textures to add an even more down-to-earth feel to the space. A table lamp is also an excellent option for creating atmosphere and showcasing the softness of your decor.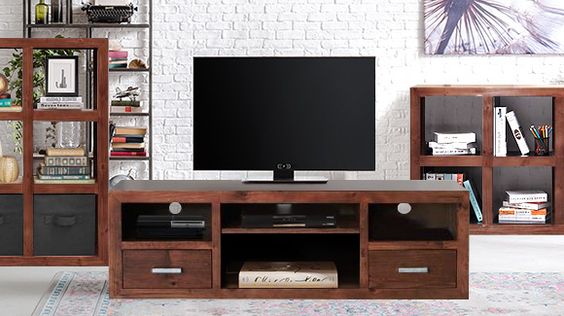 Play with texture
If you've opted to keep your TV free-standing on your TV unit, embracing texture and layers will make the decor pop. Adorning the wall behind the TV with tactile elements and contrasting shapes helps break up the empty space — think clocks, wall hangings, art or maybe even wallpaper for an extra accent. Choosing a colour scheme and carrying that through to your TV unit decor will tie it all together — pick up some matching vases, glassware, books or candles to create a calming tableau.